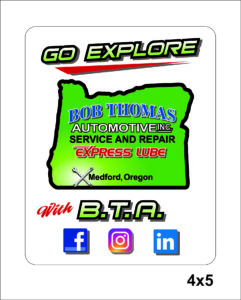 Stop by and grab one of our Get Out & Explore stickers to participate in our Get Out & Explore with BTA contest! This contest starts May 13th and runs through the month of August, 2022. Simply put our sticker (or just take it with you!) on your vehicle and snap a photo while you're on vacation.
This could be a quick day trip or a full blown vacation in the mountains, from the caves or at the coast; wherever the road takes you! Just take a picture from your location, with our Get Out & Explore sticker, post it on Facebook or Instagram and tag us in it. That's it!
We're giving out prizes all summer long and one of you will get the grand prize of a one night stay at Seven Feathers Casino Resort! We're excited to see where your travels take you!